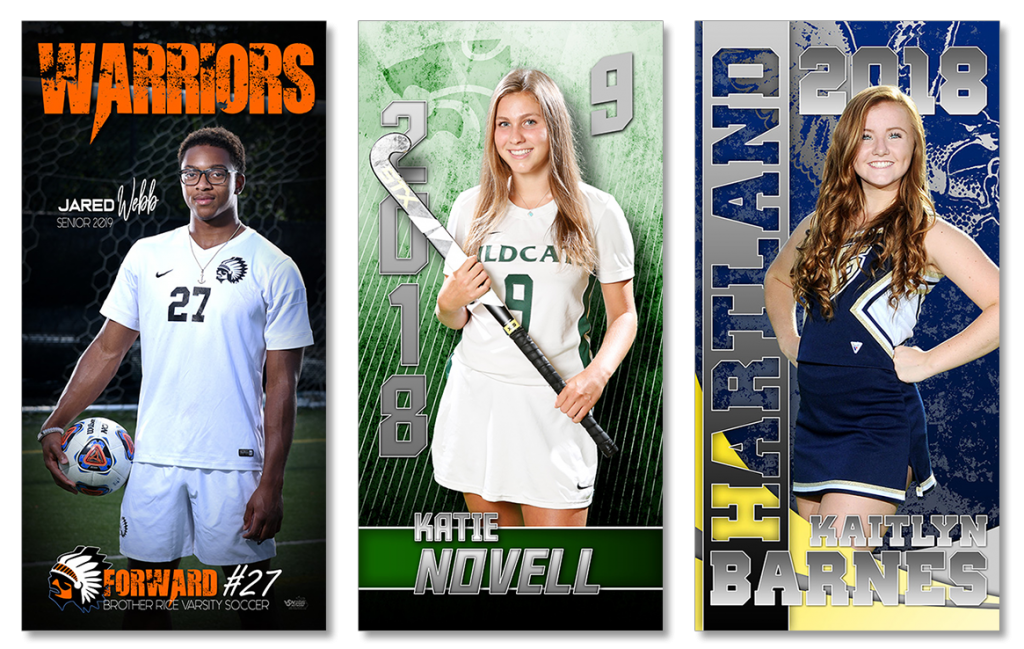 Show your pride
Senior banners are here!
Customized composite and standard vinyl banners available. 
Custom sizes and designs.
Bulk pricing for teams and organizations.
learn more
VSN has been working with Northville High School Choirs for countless years, providing group photos for our school yearbooks and plaques for our NHS Music 'Wall of Fame' for student and groups who have received state awards, recognition, and festival success. Their photographers are always wonderful, interact well with students, are truly professional, pleasant, patient, and work in a timely manner.
Saline Football has worked with VSN the whole time I have been the Head Coach (7 years). They have done an excellent job in every area. The product has been great, along with fantastic customer service. The have been responsive and flexible every year. We have been very happy with them.
I was on the football/lacrosse boosters at Walled Lake Central throughout the past 4 years and Kelly was fabulous at promoting things we didn't even know VSN had! The photographers were great and everyone is very easy to work with!!
VSN is amazing! Excellent service! Everyone I worked with was amazing and very helpful! The care and quality are above and beyond! I HIGHLY recommend choosing VSN for your team pictures, banners, etc!
I highly recommend any one looking for their team photos to go here. Excellent quality and attention to detail. They had my pictures and banner done in great time and they where very professional while working with me. We will be back next season!
I received the banners TODAY!! WE ARE SOOO LOVING THEM! Your photographer did an awesome job w the creativity and just can't say enough how great you guys were to work with. From literally throwing it at you the DAY of pics to providing this kind of customer service...crazy good stuff! Thank you-thank you-thank you! I will be fighting for these every year!
The customer service is the best I have ever worked with. This team has an extremely quick turn around. The quality of the product is top notch and the prices are very reasonable. They allowed the freedom of our players to pick their background for banners and their pose. VSN cares for you like family.
I just wanted to say thanks so much for the incredible banners...they are amazing! Also thanks for making them so quickly and the quick shipping I know the seniors and their families will love them! Wonderful customer service and excellent quality product
Our School recently switched to VSN photography and our photos are amazing!! Great quality and customer service is outstanding.. Prices can't be beat and we received our orders quickly!!! Thank you for a job well done!!!
Our school recently switched to using VSN and we love our pictures! The new banners our team has are way more intriguing than typical studio posed looks from the past. What they can do with a green screen is amazing! We look forward to using them in the future. Customer service is always speedy and pleasant. ---Dakota HS Varsity Dance
Green Screen Experience
Sky is the limit
Are you sick of the same old team set up? Take your teams photo to the next level with a Green Screen session. 100% customized for you and your team.
Click here to learn more
Classic or Contemporary?
The choice is yours
VSN can shoot your teams in whatever style fits your needs. Vsn built its reputation and style with 30yrs of standard team photography. At the same time we are not afraid of change. Teams tastes change and we are happy to change with them. Whether its is a relaxed team setup, Classic, composite, or a combination we do it all. Our Goal is to give your team the style that suits your needs.
Click here to learn more